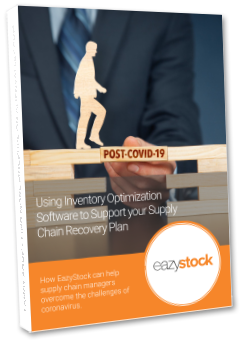 The Coronavirus pandemic has severely affected supply chains across the globe. Businesses have been rocked and are scrambling to establish new ways of working – from sourcing raw materials, to securing supply channels and finding new routes to market.
Manufacturers and suppliers need reliable and resilient supply chains to adapt to their continually changing trading environments. Central to this plan is the ability to ensure a regular flow of inventory that meets volatile customer demand, despite risks to supply.
In this white paper we will look at how inventory optimization software, such as EazyStock, can help.
Download your copy to find out how EazyStock can help you:
Deal with erratic customer behavior, track demand trends and alleviate consequences of inaccurate forecasts
Invest in inventory that will generate revenue
Prioritize your time to manage the most critical stock items
Mitigate longer lead times and manage your suppliers more effectively
Automate reordering by dynamically calculating order proposals
Free up your time to spend coordinating with suppliers and customers
Fill out the form to download your whitepaper!