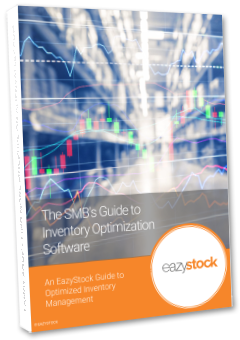 Inventory optimization is the next stage of inventory management. While ERPs and WMS systems will offer some inventory management capabilities, they do not offer true inventory optimization capabilities.
Inventory optimization is maintaining the lowest level of inventory possible while still achieving high customer service levels. This way, you're tying up less money in inventory (especially excess and obsolete inventory) and while fulfilling your orders accurately and on time.
Learn how inventory optimization can help you determine what to order and when as well as where to store it so it brings the most value to your business with EazyStock's white paper "The SMB's Guide to Inventory Optimization".
In this white paper, you'll discover
What inventory optimization is
The benefits of inventory optimization
EazyStock's functionalities that bring inventory optimization
How to implement EazyStock for quick ROI
Fill out the form to download EazyStock's "The SMB's Guide to Inventory Optimization" and start bringing inventory optimization – and all it's rewards – to your business.