When inventory piles up, cost containment spirals out of control. Businesses that rely solely on their ERP system to optimize inventory report a lack of inventory control that eats away at profits and performance.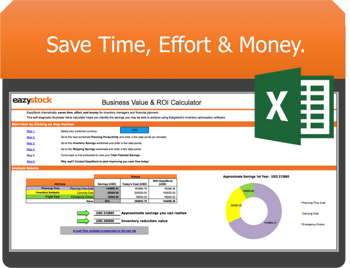 The EazyStock ROI calculator simulates the potential return on investment that you could realize by planning and replenishing your inventory with EazyStock's inventory optimization software.
There are 4 parts to the tool that calculate annual savings potential:
Manual planning and labor cost calculation
Carrying and holding cost calculation
Logistics, supplier and freight cost calculation
Cash flow analysis based on potential savings
The ROI calculator will create a 12 month cash flow analysis of you business with projected monthly saving potential. Gain better control of your inventory with the EazyStock ROI Calculator.
Complete the form to download the EazyStock ROI Calculator.