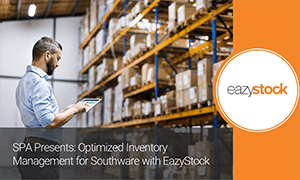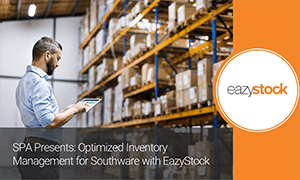 This webinar by EazyStock is tailored to Southware users interested in learning more about EazyStock's inventory optimization solution and how it can enhance the inventory capabilities of Southware.
In the session, we also give some tips on overcoming the main challenges arising from supply chain disruptions and how EazyStock can help address each including:
EazyStock helps wholesalers, distributors, manufacturers and retailers achieve better inventory results and lower costs. Our powerful tool has an intuitive GUI that lets you:
Supplier management
Allocating stock to the right customers and/or locations
Managing variable lead times
Intelligently hitting minimum order quantities
If you're interested in receiving a Stock Health Analysis to see how your inventory is performing and to get an ROI of EazyStock for your business, don't hesitate to reach out! Email: info@eazystock.com
EazyStock was proud to be a sponsor at the 2021 Digital Southware User Conference hosted by the Southware Partner Alliance.