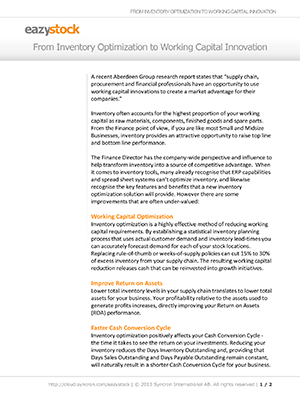 Inventory often accounts for the highest proportion of your working capital as raw materials, components, finished goods and spare parts.
From a financial point of view, if you are like most Small and Midsize Businesses, reduced inventory levels provide an attractive opportunity to raise top line and bottom line performance.
What you will learn:
Working Capital Optimization
Improve Return on Assets
Faster Cash Conversion Cycle
Reduce Interest Expenses
Increase Inventory Turnover
Balanced Customer Service & Inventory
Process Automation
Monitoring & Transparency
Opportunities in Cloud Computing
Complete the form to download the white paper.