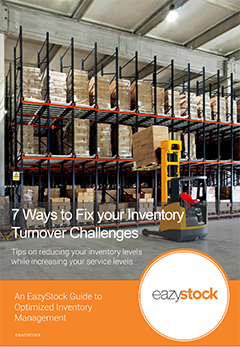 At EazyStock, we understand that managing inventory turnover is similar to a high wire balancing act.
Download this guide to learn about the keys to successfully managing your inventory turnover without losing your balance along the way.
What You Will Learn:
The guide 7 Ways to Fix Your Inventory Turnover Challenges covers strategies that will prove to increase your product turnover ratios without having to sacrifice your service delivery or customer satisfaction.
Topics include:
Inventory ABC Classification
Revising Purchase Order Cycles & Quantities
Improving Inventory Forecasting
Eliminating Excess & Obsolete Stock
Understanding Your Customer Service Needs
Reducing Variability of Demand
Aligning Your Company's KPIs

Fill out the form to download the guide.